Mapping emergency location
Streamlined work and emergency servicing of 911 dispatchers with user-centered design of  PSAP map software.
This project involved leading user-centered approach and providing all spectrum of design – from user research and usability evaluation to mapping workflows, interaction & visual design, testing iterations and delivery while collaborating with multiple development teams. Design activities involved research of how 911 dispatchers process emergencies, learning about dispatchers environment and industry regulations, defining user roles and workflows, designing new innovative functionalities with streamlined workflows and improved experience.  Designing of new experience also included establishing digital brand identity system and brand cartography with improved navigation and accessibility, defining standards and specifications for desktop to mobile user interface making UI Styleguide.
Dispatch Map software redesigned  to better address user needs and business requirements
Innovative call control functionality UI to streamline 911-call processing

Dispatching 911 calls is stressful work that requires speedy evaluation and time-critical response to manage rescue operations. Observation of dispatchers' work and user interviews were critical to define user workflows logic and design opportunities. Additional research included Public Safety requirements, when client's input and experience in developing geographic location systems helped to better understand complexities of this government regulated industry.
Design services provided:
User research, evaluation of user experience, usability and accessibility;
Contributing to strategy, vision, planning and estimating UX efforts;
Identifying opportunities for user experience and interface improvements, leveraging current technologies to innovate; collaborating with developers to optimize and minimize efforts;
Defining user workflows & interaction patterns, wireframing and annotating solutions, rapid-prototyping, detailed design and specifications, establishing UI standards and guidelines for development;
Reviewing implementation of design and user testing.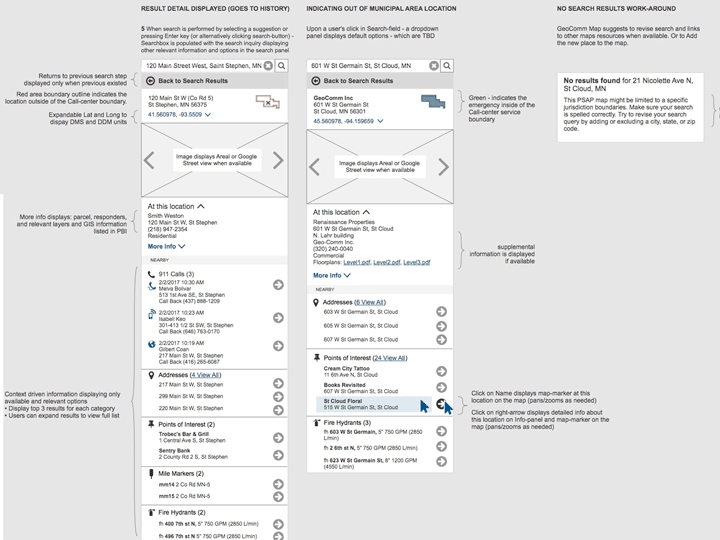 Design: Leo Melamud